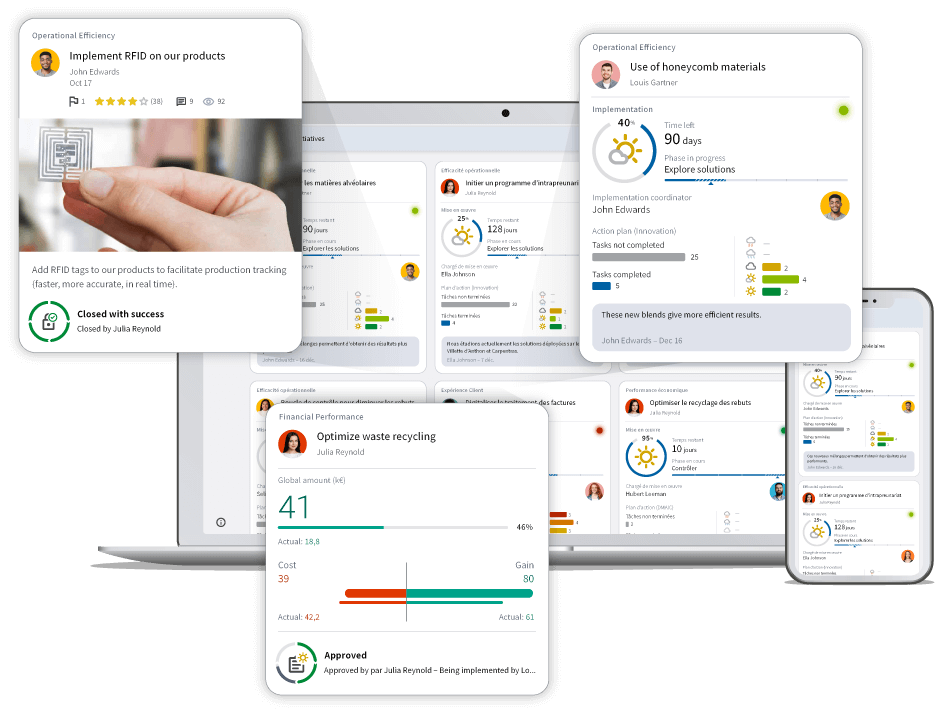 IDhall
The leading solution to manage your ideas, projects and action plans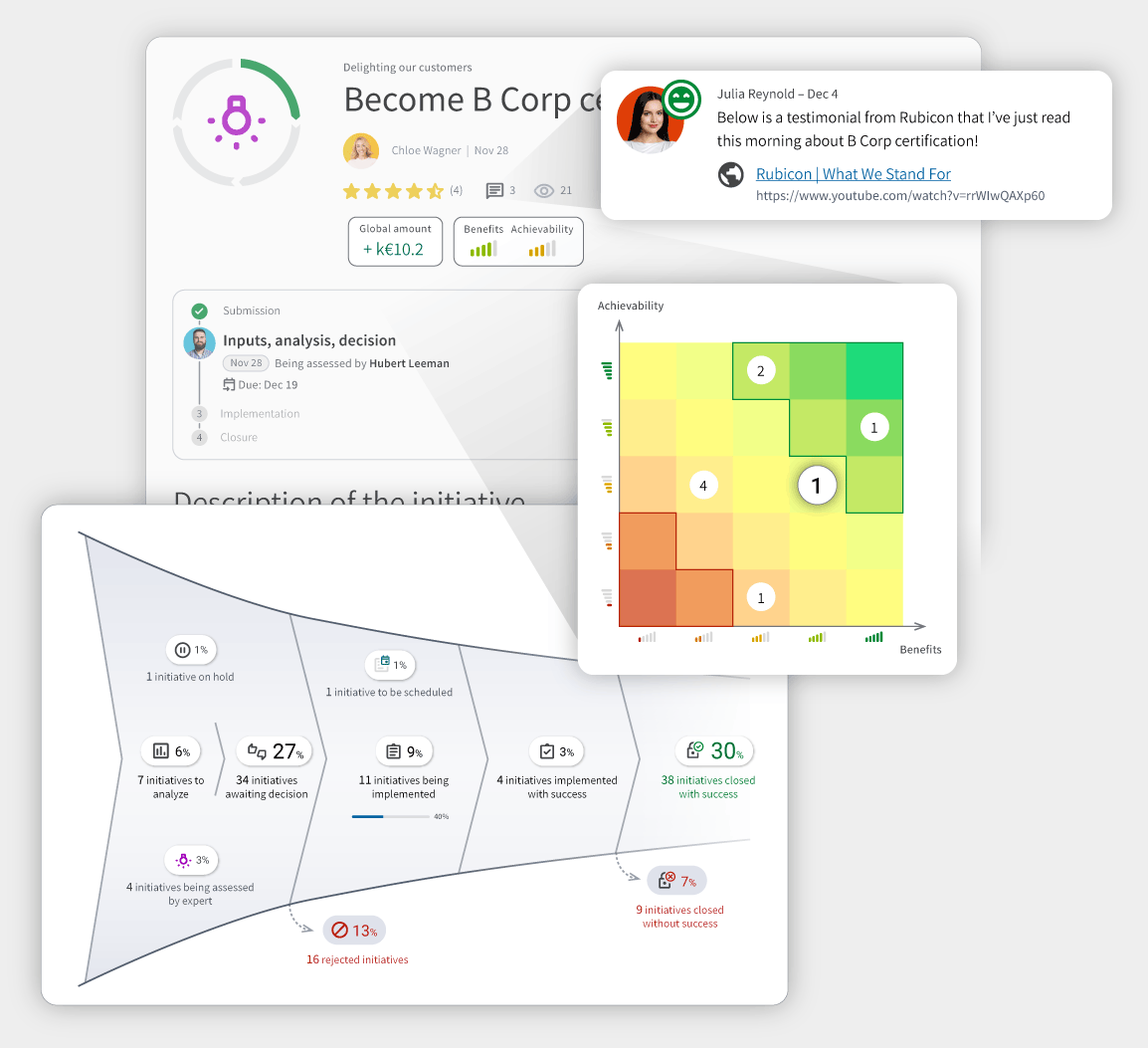 IDhall is a web-based, multilingual software solution. It is fully designed and developed by our team alongside our clients and partners. Simple and accessible to all types of users, it meets three essential needs to sustain a steady process of innovation and progress.
Capture every opportunity for innovation and progress within your company — from simple ideas to extensive strategic projects;
Exchange, prioritize, and decide on actions to implement;
Follow the progress of a project in real-time.
Centered on these key objectives, IDhall offers a complete range of features. These features enable you to deepen all or a part of your innovation and continuous improvement measures, according to your expressed needs as well as your projects' maturity.
Discover your potential for innovation and progress
IDhall gathers all the required tools needed to nurture, grow and harvest the capacities of innovation and improvement within your organization.
You will have at your disposal:
A shared vault of all the ideas, projects, and action plans within the company

A collaborative platform designed to facilitate, streamline and organize the involvement of everyone on board

A powerful management tool to effectively put the different programs into motion and provide effortless reporting.
The stability of a standard solution
Our solution has been painstakingly designed to meet the unique needs of our clients:
Ready to use As a result of our solution being standardized, it can be directly integrated into your company in order to enjoy immediate benefits. Because it is web-based, no installation is required, making your environment operational within hours.
User-friendly Our priority is the enthusiastic involvement of all participants, regardless of their comfort-level with technology. We have therefore put great care into designing a totally intuitive application that is easy and convenient to access, in addition to being exceptionally straightforward to use.
Collaborative To achieve the highest level of group effectiveness, users of our software are able to easily interact with one another in order to maximize the free sharing of knowledge, information and creative exchange.
Mobile Our responsive interface means you can access the environment from any web portal, including mobile, with no additional applications to install.
Scalable We are constantly improving and adapting our solution to the needs of our clients. Our maintenance contract ensures that you will always benefit from our system updates at no extra cost.
Flexible We take pride in offering a product designed to meet all of your technical requirements, whether it be a local installation within your IT infrastructure or an off-site solution.
Security From our years of experience in this domain, we know very well the importance of keeping your data secure. You can trust in us that we take all necessary measures to ensure that your intellectual capital is protected at all times.
Proven Deciding to go with IDhall means having the guarantee that your solution will be coherent, reliable, and stable. The fact that our product is tested on a daily basis by hundreds of thousands of users speaks to this.
The flexibility of a customized solution
It goes without saying — not all companies have the same needs. Although developed according to standard guidelines and features, IDhall is nevertheless completely adaptable in order to fit your functional scope.
Our job is to work closely with you to ensure that our application has been carefully adjusted to meet your exact needs, while at the same time anticipating their evolution. This is our guarantee to our clients: a customized, flexible solution that can roll out quickly and be economically sustainable.
Throughout the duration of your project, we will remain fully at your disposal in order to make the necessary adjustments to the features of our solution. This ensures that our application will always be perfectly calibrated to your needs.