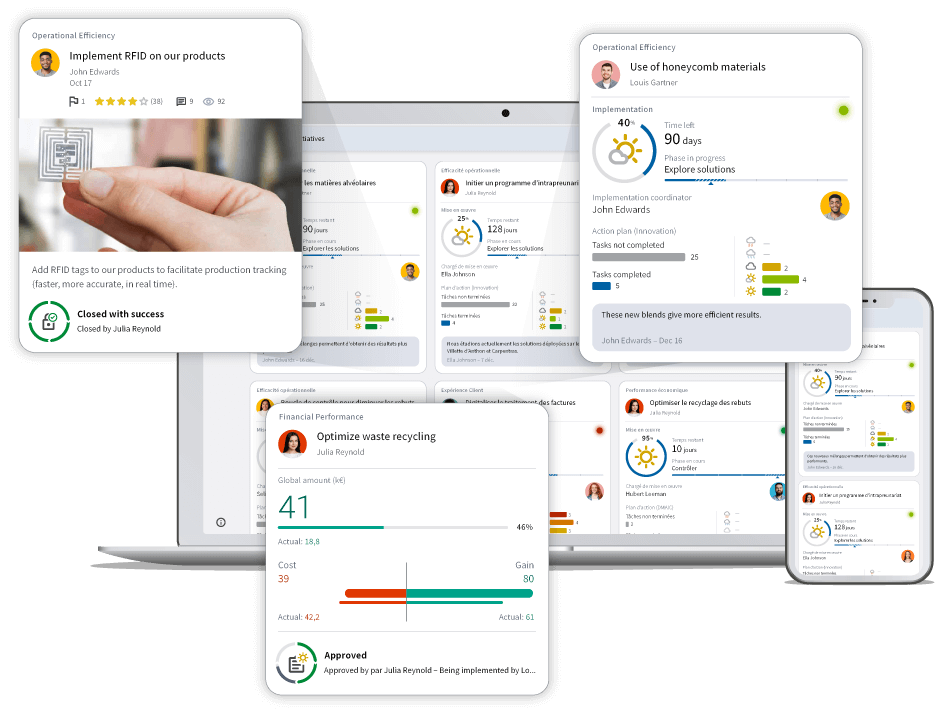 Key features
The most complete solution to manage innovation and continuous improvement
One simple and complete solution
An intelligently designed and handy homepage
Our homepage makes it easy to directly access the information that's relevant to you. Designed with intuitive access to basic features, you'll be able to keep abreast of the latest news concerning you as well as pressing action steps. Moreover, you can organize the content according to your own priorities to always ensure a highly personalized user experience.
Comprehensive view of the initiative life cycle
Our unique solution enables you to manage the full life cycle of your ideas, projects, and action plans.
Use our tool to master every step of the process — from the moment the initiative is submitted to its final implementation — as well as to check the status at any time.
Our approach to life cycle management allows you to anticipate well in advance any potential bottlenecks and thereby attain maximum responsiveness.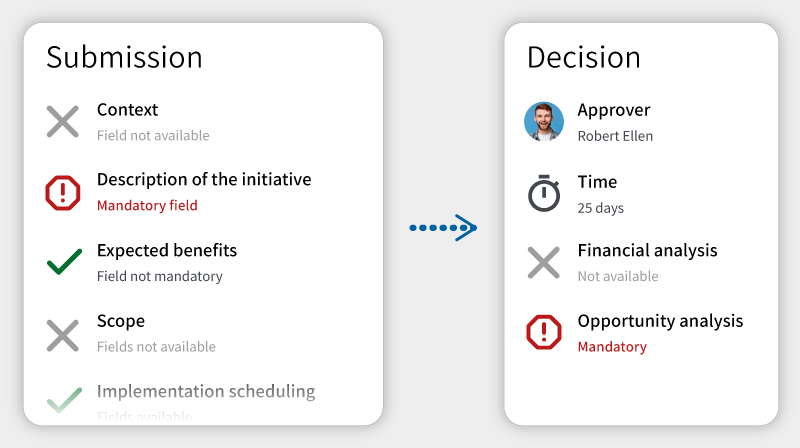 Highly customizable process
Customize the different phases of the initiative process by specifying the necessary information, roles, timetables, and assessment tools both needed and available. Furthermore, you can apply the workflow settings to each project type you'd like to manage. This enables you to push forward a wide variety of projects from one place.
An extensive framework
Intuitive and flexible forms
Modify forms for idea submission according to the level of information needed for a particular project or subject.
Create a precise and detailed form that enables everyone to submit their idea easily and vividly, with pictures, documents, and supporting links.
This guarantees that submissions will be well-expressed and in line with what's expected for a particular initiative.
Visible progress on display
Through highly visual progress indicators, initiative participants can easily stay up to date with the development of an idea or project. The different steps of the life cycle are clearly labeled, along with the deadlines and persons responsible.
You'll also have at your disposal an application through which information can be shared seamlessly, thereby strengthening the trust and involvement of all those concerned.
A wide range of subjects and audiences
Organize ideas or projects according to different subject matters: strategy, call for ideas, activities, jobs, etc..
If needed, limit the range of users who can access a particular initiative in order to preserve confidentiality.
You are therefore able to deal with both secure and open matters simultaneously on the same manifold platform.
A support for collaborative decision-making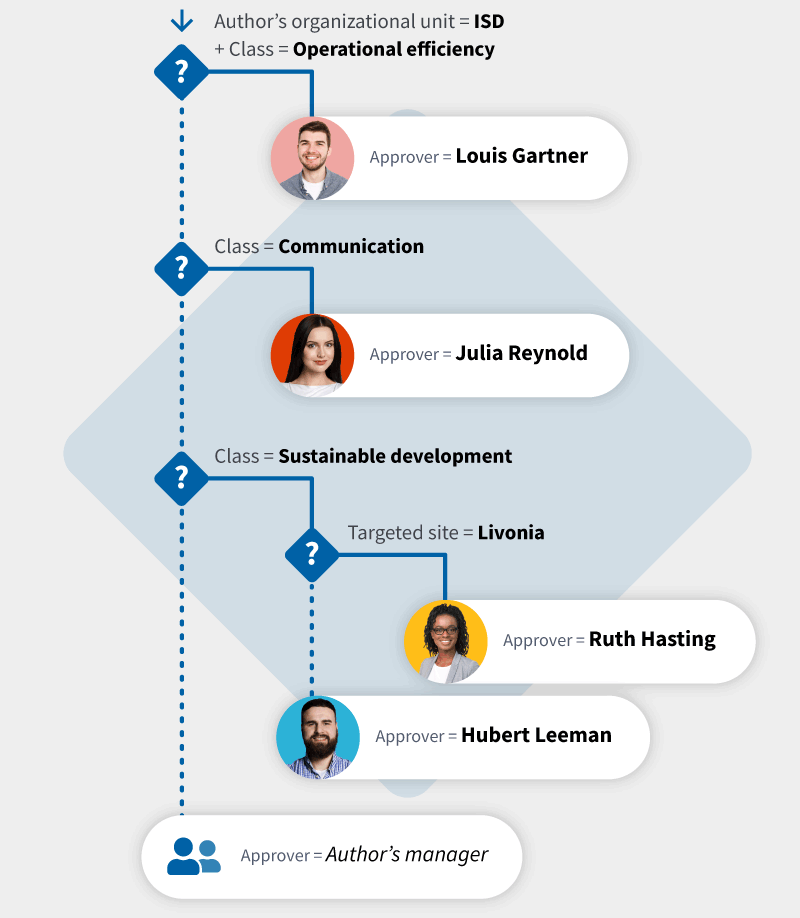 Automatic assigning of decision-makers
All new submissions are automatically relayed to designated approvers according to the pre-defined decision-making structure.
These approvers are immediately notified both by email and on their home page, and have a plethora of tools to aid them in their decisions.
This methodology creates a streamlined management process for all initiatives.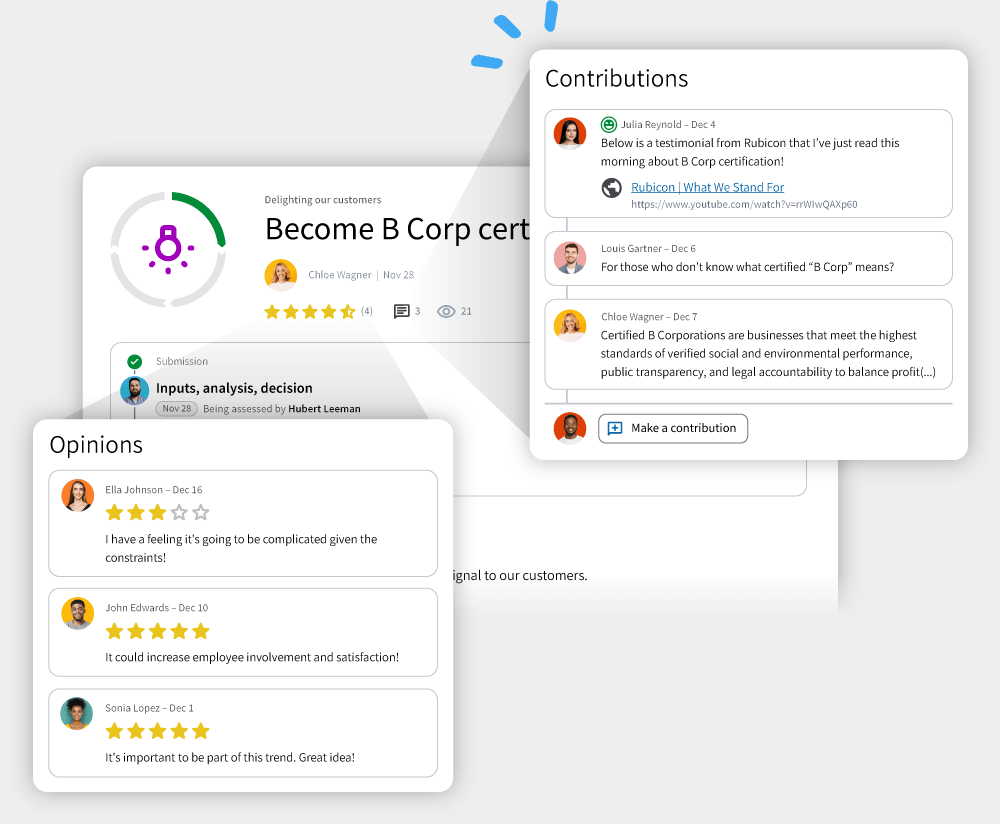 Collective ideation
Get a hint on what is popular via a star system.
Encourage the collective development of an initiative by allowing everyone to freely build upon each other's ideas.
Obtain new perspectives when seeking out the opinions of the appropriate individuals, or leave the decision-making entirely up to a designated expert.
This provides you the best collaborative results to inform you in your decision-making process.
Pragmatic analytical tools
To help you prioritize opportunities, you can work with your team to come up with an evaluation grid that weighs the benefits/effort of a proposed initiative. Each person can conduct an evaluation according to previously defined qualitative or quantitative criteria.
Our interface allows you to objectively compare different projects with the help of a highly visual opportunity matrix.
A transformation of opportunities into real results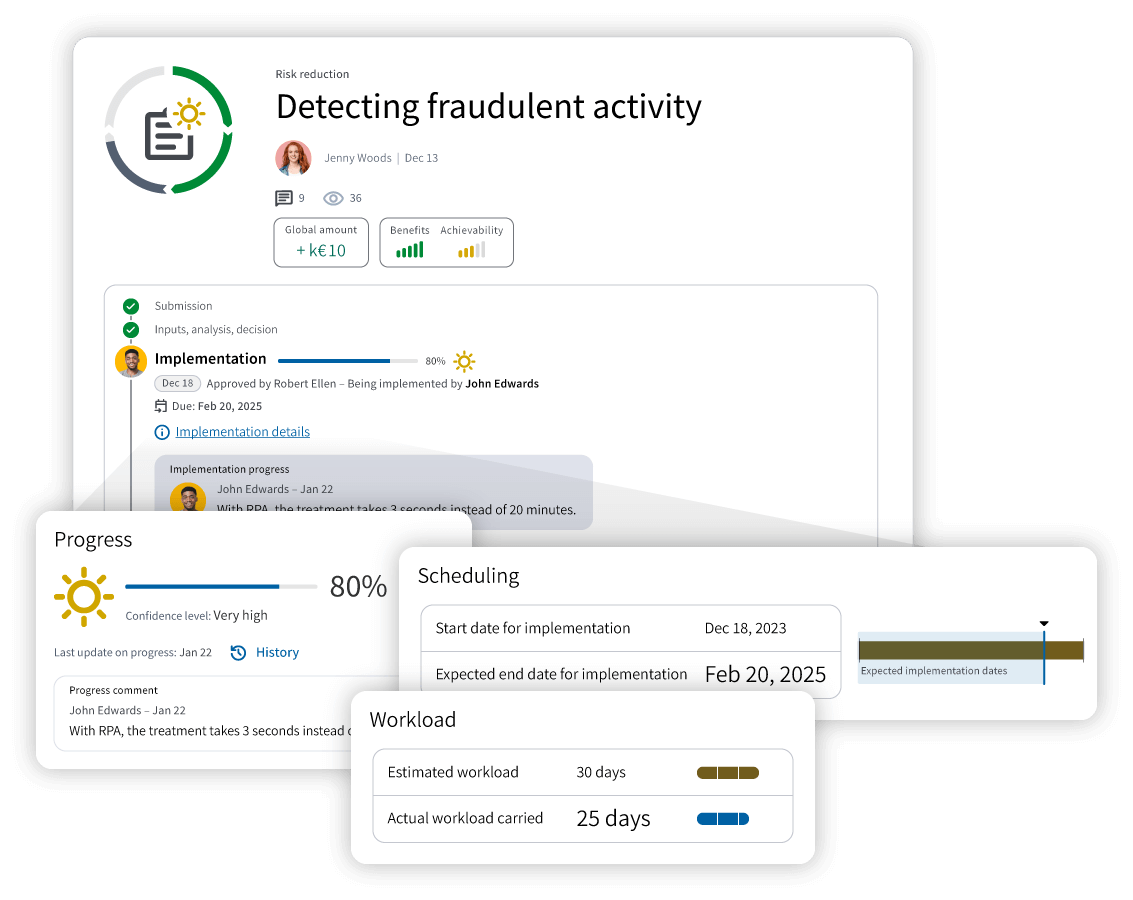 Real-time monitoring of the implementation process
Once you've identified a great opportunity, give its implementation the best chance possible by designating an appropriate individual to take ownership over it.
Follow the progress of projects using the various tools we've put in place: progress bar, confidence index, and time tracker.
These tools were specifically designed to help users keep up with initiatives in real-time and support them through difficult patches.
A project management tool that's accessible to everyone
Go into project mode to undertake more complex implementations.
Here, you can create an action plan in as little or as much detail as you'd like and position tasks in just a few clicks. You can also use our powerful planning tools to manage available resources.
Our project management solution ensures the greatest chance for success by means of a straight-forward methodology.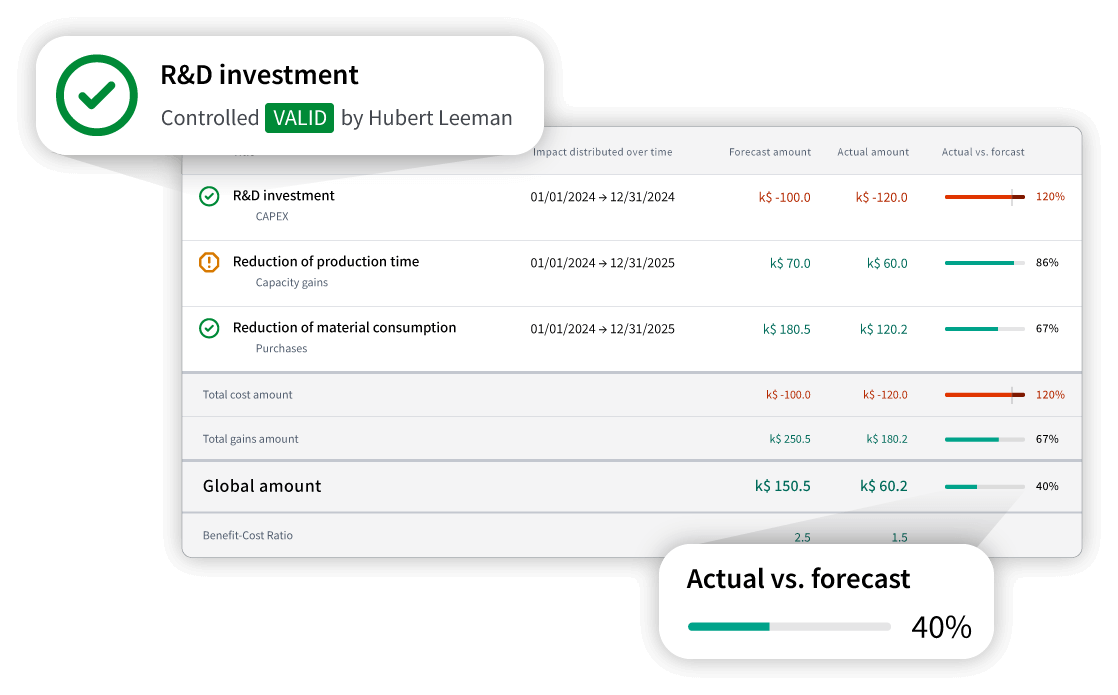 A keen measurement of economic performance
Generate at any time the cost analysis and projected earnings for an initiative, either in simple measurements or via a more elaborate process.
Follow the initiative's impact over time on your profit centers, and take note of the differences between initial estimates and actual earnings.
This will help you to evaluate your opportunity portfolio based on specific economic criteria. In short, your budget is under control.
Inventive tools to animate and manage your projects
A powerful search engine tool
Easily sift through vast amounts of information using our sophisticated search engine that can help you pinpoint even the smallest details.
Input a word, then refine your search criteria and sort information instantly.
You'll have comprehensive results, and be able to apply an action to modify all the listed groups of ideas or projects in one swift step.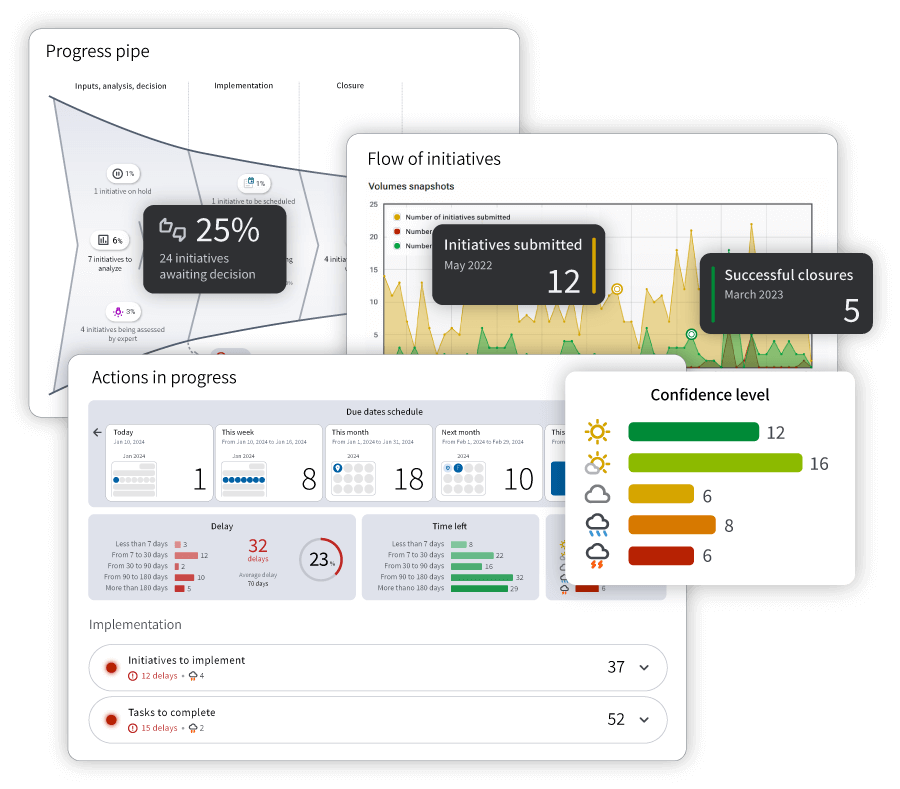 Remarkable and effortless reporting
Create personalized reports that you can use for your own internal purposes. This allows you to have either a broad or detailed view of the latest actions as they occur within the system.
Thanks to numerous visual statistics you won't waste any time putting together reports.
With IDhall software, you'll be able to bring your projects to life as well as effectively manage your approach. This ensures that the dynamic of the approach is properly established and everything goes according to plan.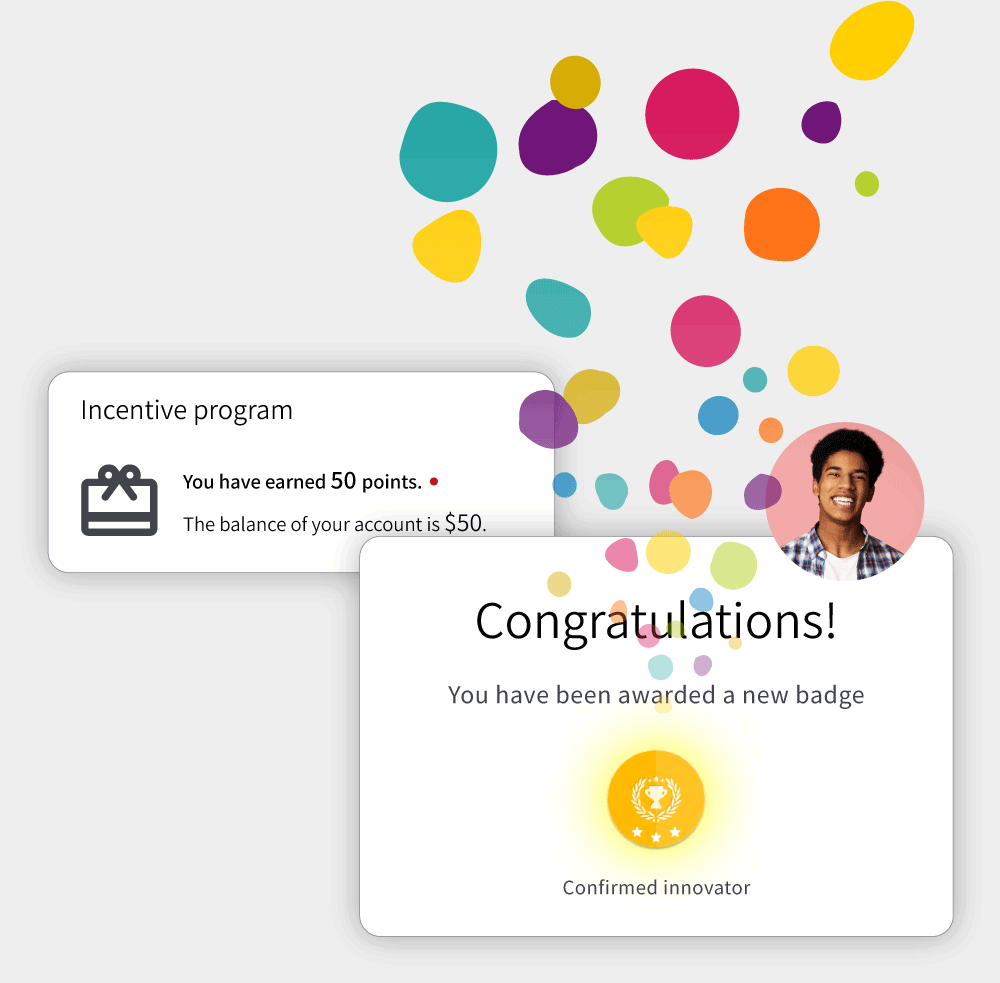 A valued commitment
Motivate your employees through a reward system in which they can earn points and badges for their participation. This will also allow you to identify the members of your workforce who will be the most dedicated key players for innovation within your company.
Communicate the most noteworthy initiatives to the group at large, giving the key players the recognition they deserve in the form of trophies or other symbolic rewards.
By showing appreciation for talent, good ideas, and good practices, you can accelerate the entire process.
A solution in line with what you're doing
An application created in your image
With the freedom to use your own graphic chart, you can showcase your brand's identity within our system.
Create colorful and impactful greetings, customizable if needed in order to better target your particular audience.
We're proud to have engineered a product that will create a gratifying experience for your users and maintain what makes your brand unique.
An international environment
Facilitate the involvement of users from all parts of the world by offering them an application available in a dozen different languages.
Easily display the various structural elements (ex: classification or criteria of analysis) of your system in different languages, sharing a common framework that is understandable by all users.
Our software makes it possible for innovation to transcend borders.
An accessible platform for all devices
Thanks to the web technology used, nothing is easier than logging on to your platform via your normal web browser.
Moreover, our responsive application has been optimized for all types of devices (computers, tablets, smartphones) without the need to install any extra applications.
So, you can access your data anytime and anywhere.
An autonomous administration of accesses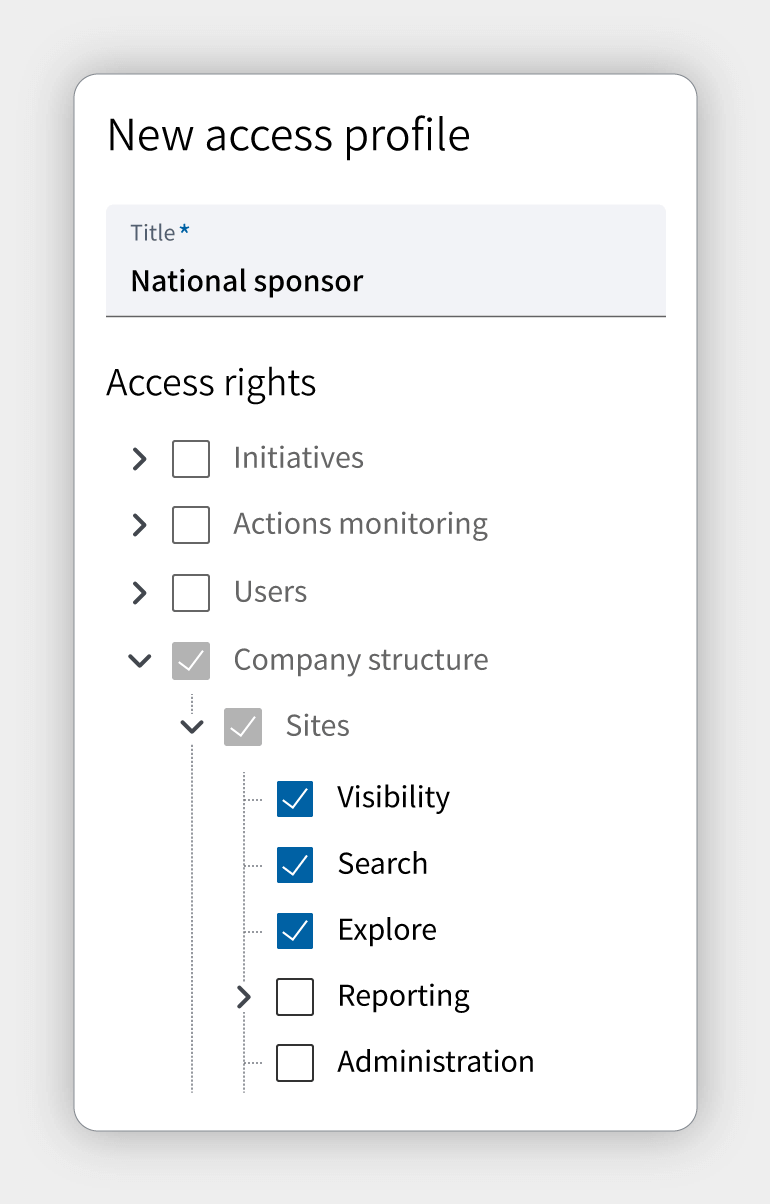 Customized permissions management
Create as many user access profiles as you'd like.
Then assign them to designated groups of users in order to manage how they participate within the system according to their role.
Thanks to the incredible customization of these permissions, you are guaranteed to have an application molded accurately to your needs regarding security and functionality.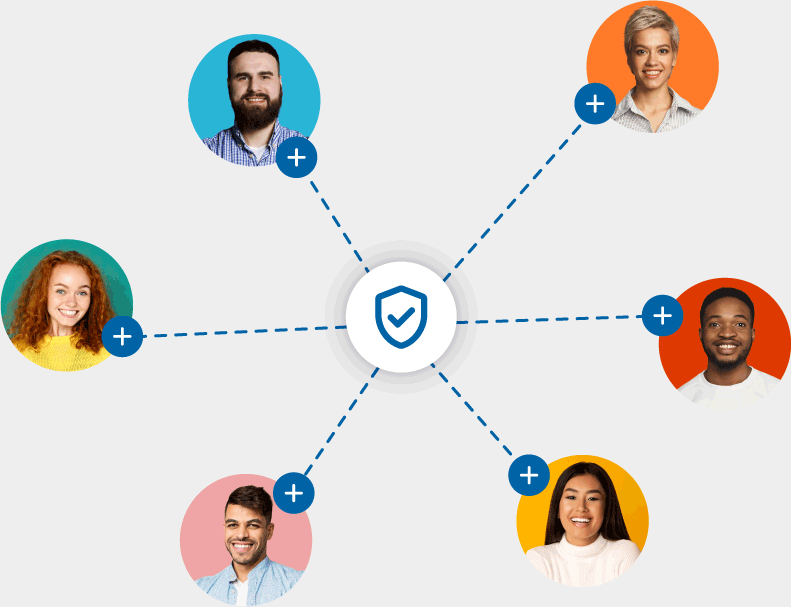 An open approach thanks to self-sign ups
Open up new possibilities by inviting your extended network to sign up on your platform spontaneously, on their own accord.
Thanks to various control levels, such as manual validation of sign-ups or advanced setup of access rights, you can work peacefully alongside your customers, partners, and suppliers in a secure and shared environment.
Your company's spirit of innovation and progress will naturally spread and multiply.
In synergy with your Information System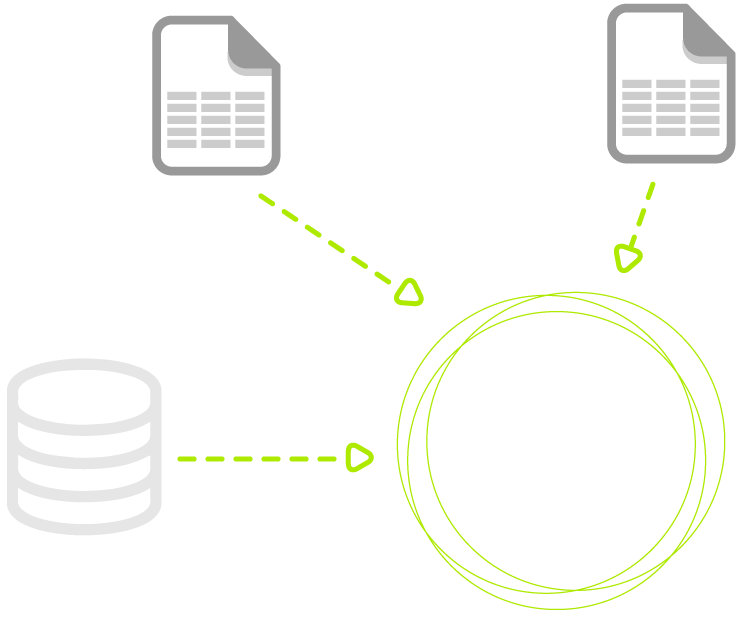 An automatically synched organization chart
Easily set up your organizational structure, including your user list, thanks to gateways to your LDAP directory, such as Active Directory, or by importing extracted files from your information system.
Schedule recurring tasks so that updates are performed automatically.
This affords you an effortless application that is always in sync with your organization.

Authentication federated on your systems
Enjoy a high level of security by delegating your users' authentication to your company's identity federation system.
In addition to benefiting from the robustness of the mechanisms implemented within your architecture, SSO (Single Sign On) saves your users from having to authenticate on multiple platforms and remember multiple passwords.
Regardless of the policies that have been put in place by your IT department, compliance will never be an issue.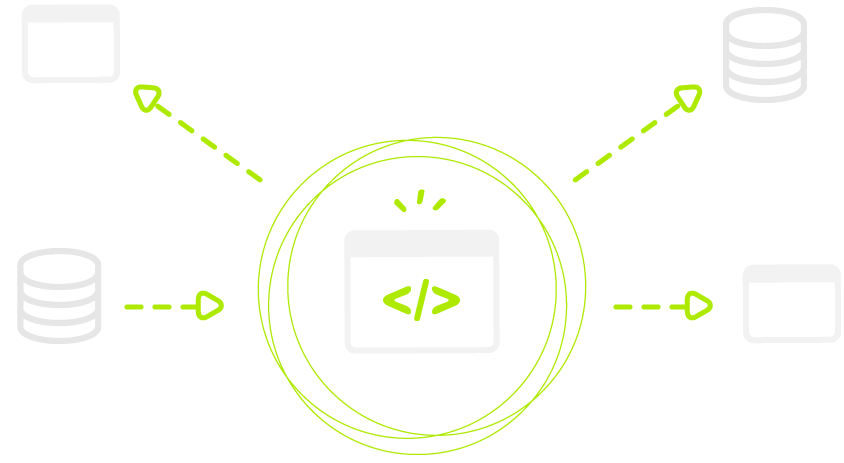 An API with limitless possibilities
Multiply interactions by exploiting the REST API embedded in the application.
Submit new initiatives, update their processing and obtain all the desired information — like you would do through the user interface, or simply enrich your repository of external sources.
You thus have a platform that is fully integrated with your entire application ecosystem.