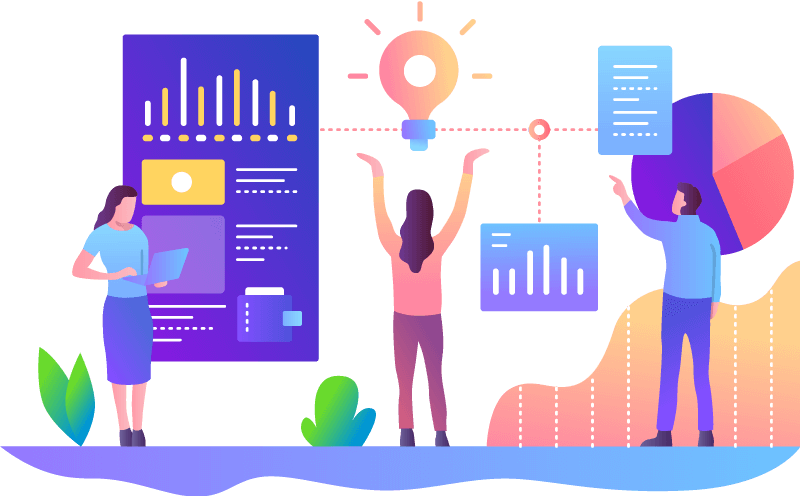 Innovation Management
Unlock a treasure trove of good ideas
Your workforce represents a limitless supply of great ideas. Beyond merely collecting and hanging them out to dry, real success is measured by how suggestions are processed and ultimately implemented. And, moreover, to do this with total transparency.
With IDhall, you can manage every idea end-to-end — from concept to conclusion, inception to implementation — with an emphasis on results. Once our solution has been implemented, you will find your workforce mobilized, engaged, appreciated, and motivated to bring the very best of what they can offer. Improvement and innovation in your organization are sure to follow.
Map out your innovation process
Innovation management is a rigorous undertaking that depends on steadfast leadership.
The first step is for your team to identify the priority areas or pillars of improvement for your company. Next, mobilize key individuals who are in a position to take ownership over the initiatives as well as take a vested interest in seeing them through.
Then simply let our flexible platform go to work, aiding you along the entire lifecycle of the initiative.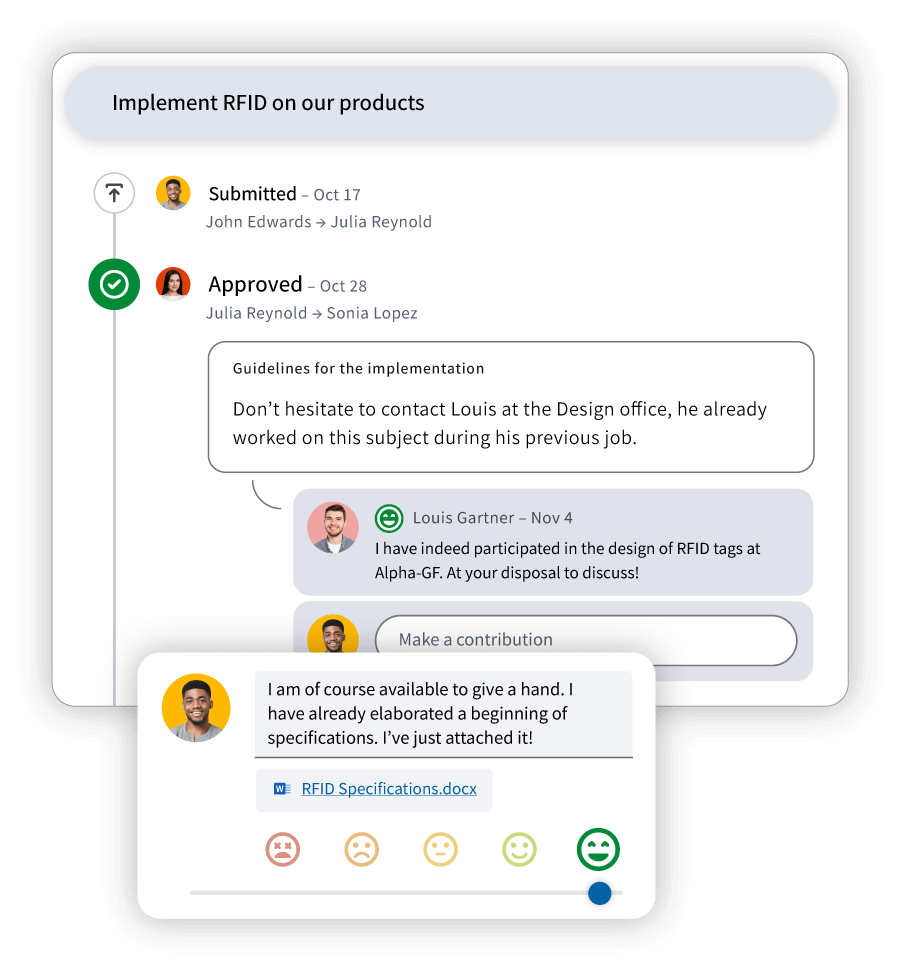 Benefit from the transparency of a shared and collaborative solution
Ideas are captured, organized, and shared. Because you've clearly outlined the various areas of innovation you're working towards, submitted initiatives should align closely with your priorities.
Collaborators can follow the progress of their ideas in real time, continue to flesh them out, and maintain an ongoing discussion with the individuals responsible for pushing them forward. This standard of transparency and inclusion builds confidence and fuels motivation in all those participating in the program.
Evaluate, select, and launch!
In order to keep an active approach, ideas must be processed both quickly and objectively.
Thanks to our powerful and sophisticated collaboration tools, the evaluation and decision-making processes could not be easier, whether your team is contained within a single building or spread out across the globe. Regardless of the volume of proposed initiatives, the best opportunities for your company will naturally separate from the pack, rising like cream to the top.
Following that, prioritizing their implementation will be a natural effort.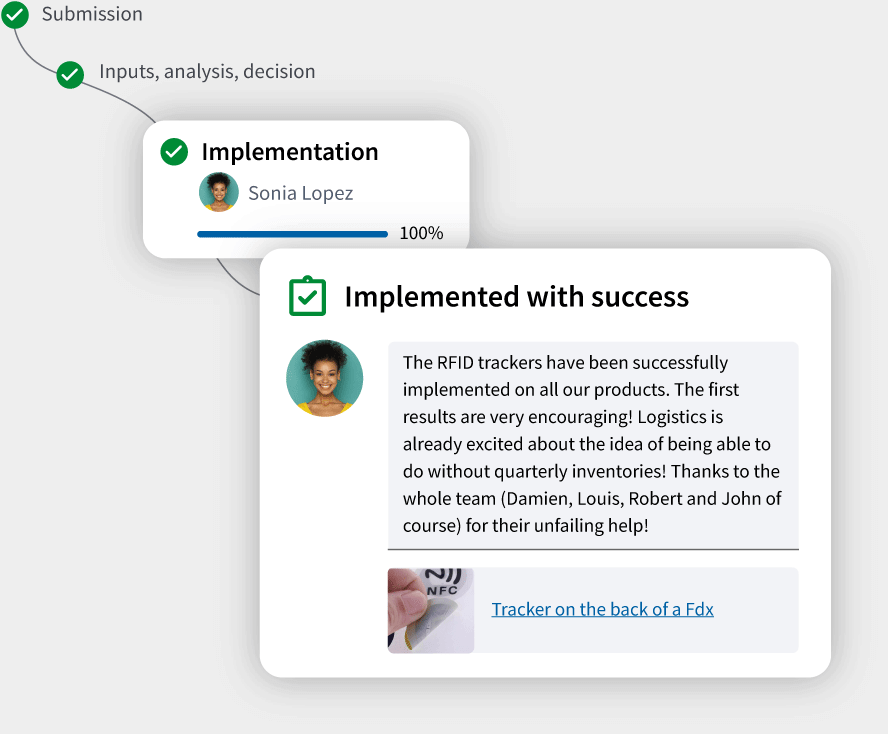 See implementation through to the end
Nothing drives company morale more than when workers see their ideas come to fruition. This is why it is paramount to ensure that the best ideas submitted are smoothly implemented.
Whether the initiative is one-dimensional or multi-faceted, you can rely on our solution to transform your ideas into real working innovation.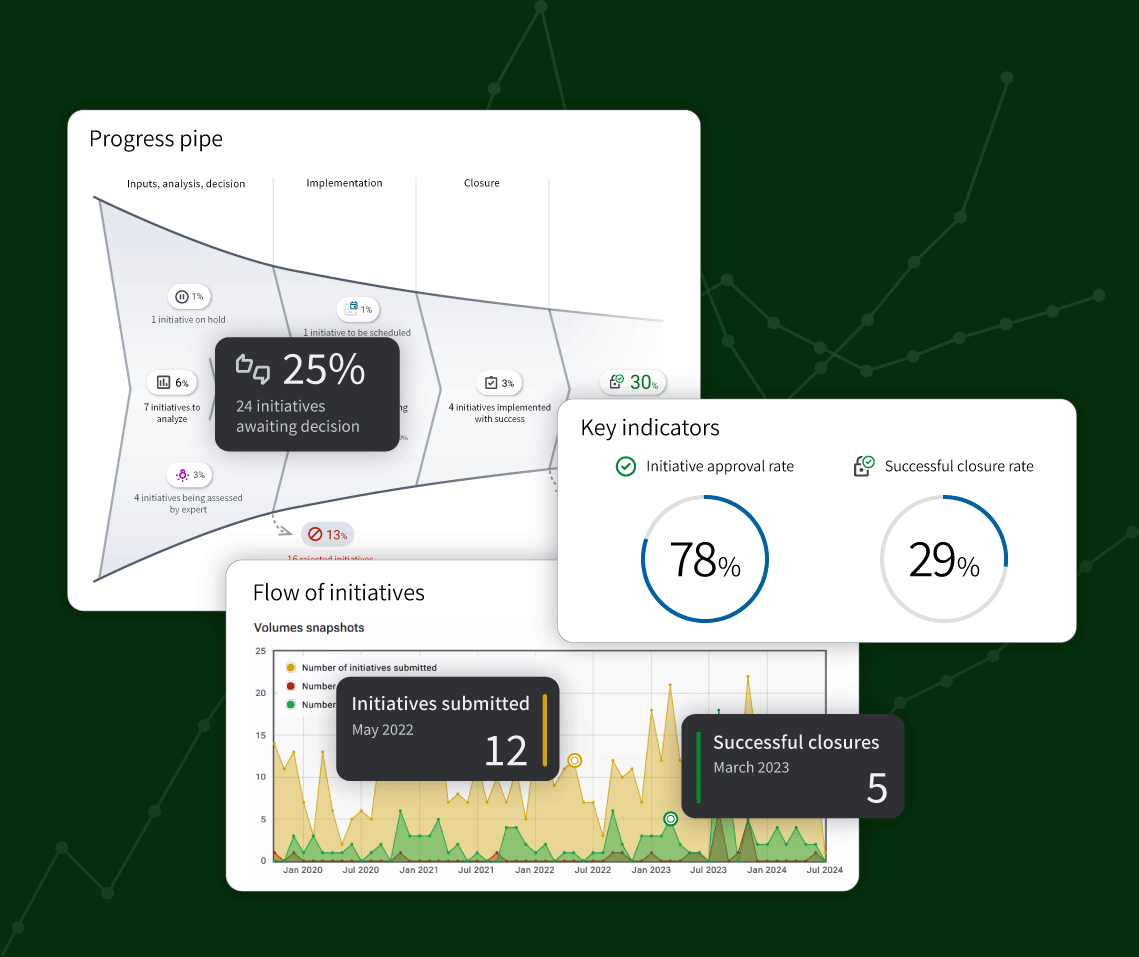 Maintain seamless user engagement and anticipate pitfalls
Our advanced dashboard, developed after years of fine-tuning, allows you to pilot your approach with the utmost confidence.
You'll know it the moment the process is no longer working to the best of its ability, and therefore be ready to anticipate any needed adjustments to how users are being engaged.
Likewise, you'll be able to see the project's progress in one click as well as the pertinence of participation as deemed by the Direction.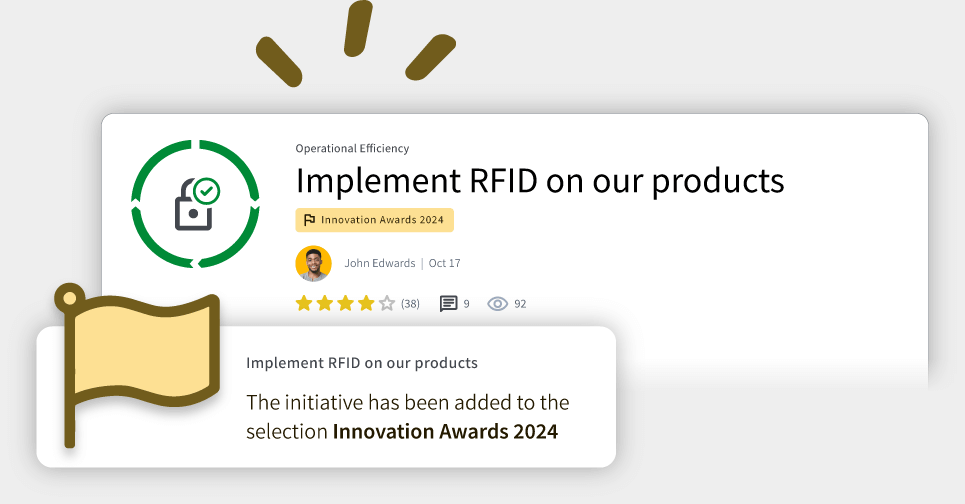 Give your best ideas the chance to shine
By distinguishing superior initiatives through a reward program, top submitters will feel recognized and motivated to continue along the collaborative improvement path.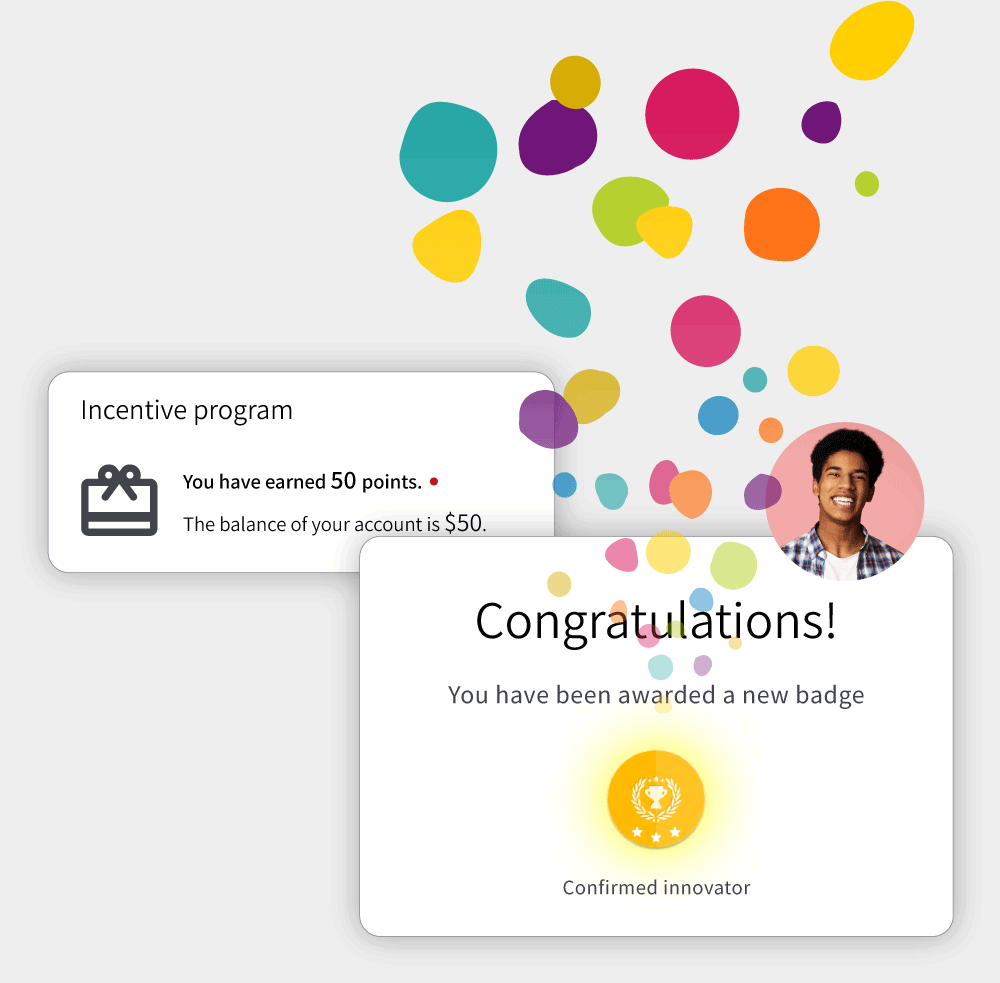 Stimulate your staff!
With the points-based incentive program, you value everyone's participation in the innovation process.
Add some fun with custom-made badges that your employees can earn as they become more involved.
By explicitly acknowledging the efforts of your workforce, you can increase participation in collective innovation ten-fold.
They chose IDhall
to support their innovation process
You too, adopt IDhall to:
Accelerate your innovation management process,
Digitalize your idea box,
Support your Open Innovation or intrapreneurship program,
Boost your Idea Management System (IMS),
Lead your innovation projects portfolio…
Find out more about innovation culture with our ebook
Your project goes beyond the sole innovation management?
Find out how IDhall can also help you with:
Stimulating a challenge or a call for ideasLearn more

Energizing the action plans within your performance improvement programLearn more

Driving your transformation projects or your roadmapLearn more