Idea Management System: our complete file on how to implement it successfully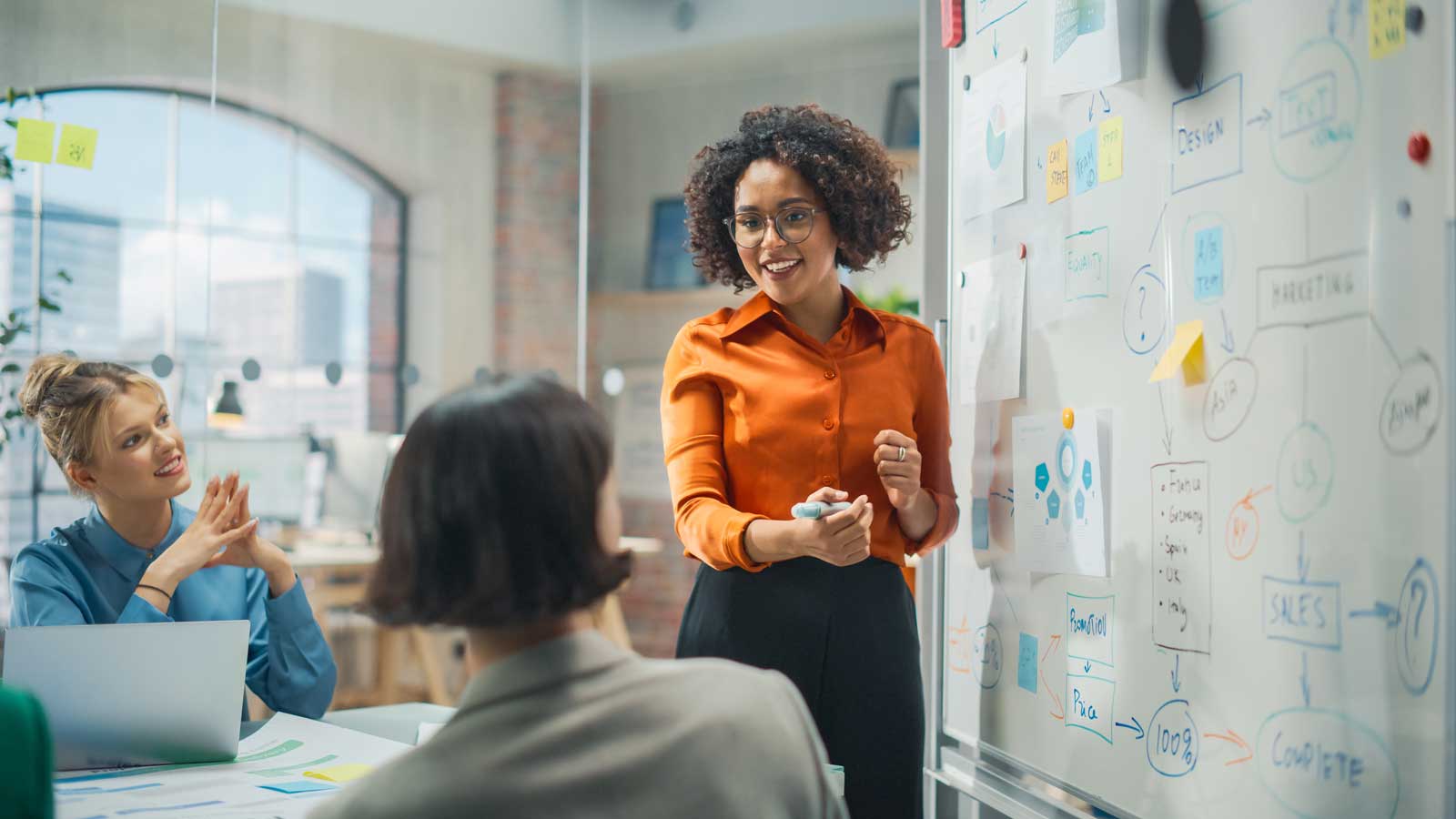 Everybody can bring new ideas. Your employees. Your clients. Your partners.
And what if you could capture and exploit all these ideas (improvement of working conditions, new products, discovering new opportunities, optimizing processes, etc.) easily and effectively?
The new digital tools with powerful features have clearly changed the stakes. These tools can now help you gather and manage ideas in a few clicks, in a way that has never been possible with any idea box: from inception right up to implementation of the idea.
Here is the secret to a successful Idea Management System: transforming the idea into concrete business results.
What are the fundamental principles of the Idea Management System and open innovation?
In theory, innovation management is a structured approach to innovation, aimed at developing creative synergies between the company's various stakeholders. In practice, it brings together all men and women regardless of organizational, hierarchical, or geographical barriers and ensures everyone in the company has a voice.
Because the more people the better when it comes to ideas
Based on the principle of strength in numbers and facilitated by new and increasingly effective technologies, collaborative innovation allows new links within the company, but also between the company, its clients, suppliers and partners.
It promotes the development of joint projects and thus creates added value in the company, whether the projects concern new products, new services, new markets, a new customer experience or improvement of the existing situation.
Collaborative innovation can be internal, geared towards the company through its various services, operational sites or business units.
Collaborative innovation can also be external, geared towards customers, suppliers and sometimes even competitors, for example in the context of innovation clusters.
Overall, open innovation allows companies to reinvent themselves and to stay a step ahead, through collective intelligence and especially good methodology!
Stimulate and organize creativity
Implementing an Idea Management System is not actually a new practice, as evidenced by the presence of idea boxes everywhere or satisfaction questionnaires sent to customers who call on them to come up with ideas.
The difference a good innovation policy makes for a company today can be summarised in just two words: creativity and rigour.
It would be easy to think these two concepts are contradictory, yet they are in fact complementary!
Creativity must be encouraged and valued, to obtain as many ideas as possible, but it must also be centralized and organized to lead on to real operational projects.
The purpose of the Innovation Manager is in essence to channel enthusiasm and tap into the creativity of all employees to generate "good" ideas right up to their implementation.
What is an Idea Management System (IMS)?
An Idea Management System is first and foremost management, i.e. managing human resources with the goal of improving performance.
But management would be nothing without a high-performance system in place. This process must be well thought out, systematized and deployed effectively. This management of collective innovation creates healthy competition, transforming each employee into an ideas finder. More particularly, it delivers the desired added value by identifying relevant ideas that will ultimately enable new initiatives to be implemented.
The Idea Management System can thus be defined as: "a systematic process of eliciting, generating, gathering and evaluating new ideas as well as their implementation in the company".
These new ideas can relate to various areas of activity, the most obvious being turnover growth:
The creation of new products / services / features
The discovery of new markets and/ or opportunities
A better solution arising from a better understanding of clients
But some ideas will also affect potential areas that can be cut back (time / cost / energy), thus allowing an increase in ROI:
Reducing costs as a result of optimizing existing processes
Reducing waste (of time, money, resources)
Improving involvement of employees resulting in productivity gains
In short, based on a controlled process of generating, gathering, evaluating and implementing new ideas, the company is provided with an opportunity to innovate and to create new opportunities.
Idea Management System: What are the keys to success?
The Innovation Manager is at the crossroads of the various challenges facing the company: strategic, technical, commercial and managerial. As an interface between decision makers and operational teams, he or she complements the innovation strategy by instilling a culture of innovation in all operations.
From an operational perspective, he or she listens and helps generate new ideas. For decision makers, he or she will put forward and support the ideas of employees, while remaining in line with the strategic issues.
How to succeed and with which tools?
A powerful 5-step Idea Management System
In broad terms, the Idea Management System aims to generate, gather, evaluate and implement new ideas.
But in order to put it in place, every detail needs to be considered. This is where the role of the Innovation Manager comes into play: he or she needs to instil this ability and enthusiasm for innovation within the business, both on the leadership level and in operational teams.
Here are the 5 key steps to successfully establishing an Idea Management System within your company.
1

The launch of the IMS in project mode

As for any project, on start up, it is important to reflect on the "how and why": what objectives must be reached (the why), who is driving the action, who is participating (employees? clients?), in what time frame, for how much (budget) and in what way (the tool and the process).
2

Gathering ideas

Once the IMS has been validated and deployed, the raw material is gathered. This step requires internal communication, educating to foster enthusiasm and remove obstacles, or potentially giving training in the tools. Any idea is welcome, although employees might need convincing!
3

Evaluation and selection of ideas

This step is crucial for the next part of the process: identifying, among all the ideas put forward, those that will be relevant, achievable and in line with instructions. This process can be done in several ways: peer review by co-workers, by the coordination team, by management or by a selected internal or external body of experts.
4

Implementation of the ideas: launching new projects

This is the goal of setting up an IMS: to launch new initiatives arising from employee ideas. It is not only imperative that these ideas take life but also that they are followed through to completion. This is the concrete phase, which makes all the difference.
5

Management, follow-up and evaluation

As for any project, this innovation management requires organized management: Checking the achievement of objectives, monitoring and measuring the performance of the indicators defined in advance (number of ideas, number of projects completed), learning from mistakes / difficulties and improving the process. The IMS involves a continuous improvement approach.

These 5 steps guarantee the proper implementation and proper management of the Idea Management System. Each step is essential to ensure the selection and implementation of ideas gathered.
The tools for steering innovation
The ability to generate and exploit new ideas is the cornerstone of successful innovation management. A well thought through and relevant process is essential upstream and a powerful idea management tool should be deployed within the company.
For this tool to be really effective, all of the IMS phases should be centralized, accessible to everyone and allow analysis and organization of ideas.
The new successor to the famous ideas box is therefore a turnkey system, which centralizes the generation, gathering, assessment and handling of ideas.
Most of the time used in a SaaS mode, participative innovation platforms are accessible everywhere and at all times via the Internet, on any media (computer, tablet, smartphone) and offer a palette of features, customizable to match your organization's colour scheme and to define access rights according to contributors profiles. These can be your employees, clients or any other stakeholder who will help you build your innovation management process and boost your ability to innovate.
If you wish to find out how to create an effective innovative culture in your business, please download our ebook:
What are the key features for a good IMS?
Thus, an efficient Idea Management System should come with the following features:
Gathering ideas

Each idea should be able to be contributed with no constraints, in less than 3 clicks. Evidently if it is difficult to contribute an idea, few ideas will be suggested. Management or the coordination team should ideally define the categories the ideas will be organised in.

Enrichment of ideas

An IMS tool must help enrich the ideas of others. There are creatives, who come up with new ideas, and there are experts, who can take an idea and improve and develop it. It is therefore crucial to value every person in the company. This feature is part of the prerequisites for implementing the project, while refining it with the input of other collaborators (depending on their position, culture, etc.).

Evaluation

This is key: If your innovation strategy is successfully implemented, you could end up dealing with hundreds or even thousands of ideas! And it takes time to study, sort and analyse these ideas. What is most effective? A scoring tool directly integrated within the Idea Management System. By noting down the ideas themselves, employees can gain an overview of ideas that stand out.

Project management of ideas

If you wish to keep employees engaged and enthusiastic about producing ideas, good communication on the implementation of selected ideas and the progress of the project is needed, conveying the message that the approach is working, and that the process is moving forward all the way to end.

The search for ideas

The power of digital tools also lies in their storage capacity, capitalization of the information and thus in research! Research capacity is one of the key features of the Idea Management System: an idea must be able to be found in just two clicks, using its key words, title, author or date of submission. Finding ideas means being able to rely on a good idea at the right time. An idea put forward two years ago could end up finally materialized thanks to new regulatory or technological developments! But first this idea needs to be found!
Beyond these purely technical features, it is important to keep in mind that the Idea Management System is designed to improve innovation and to benefit people. Successful Open Innovation capitalizes on employees, whose voices have been heard and creativity valued, thanks to a powerful and adaptable tool.