Choosing the right collaborative innovation software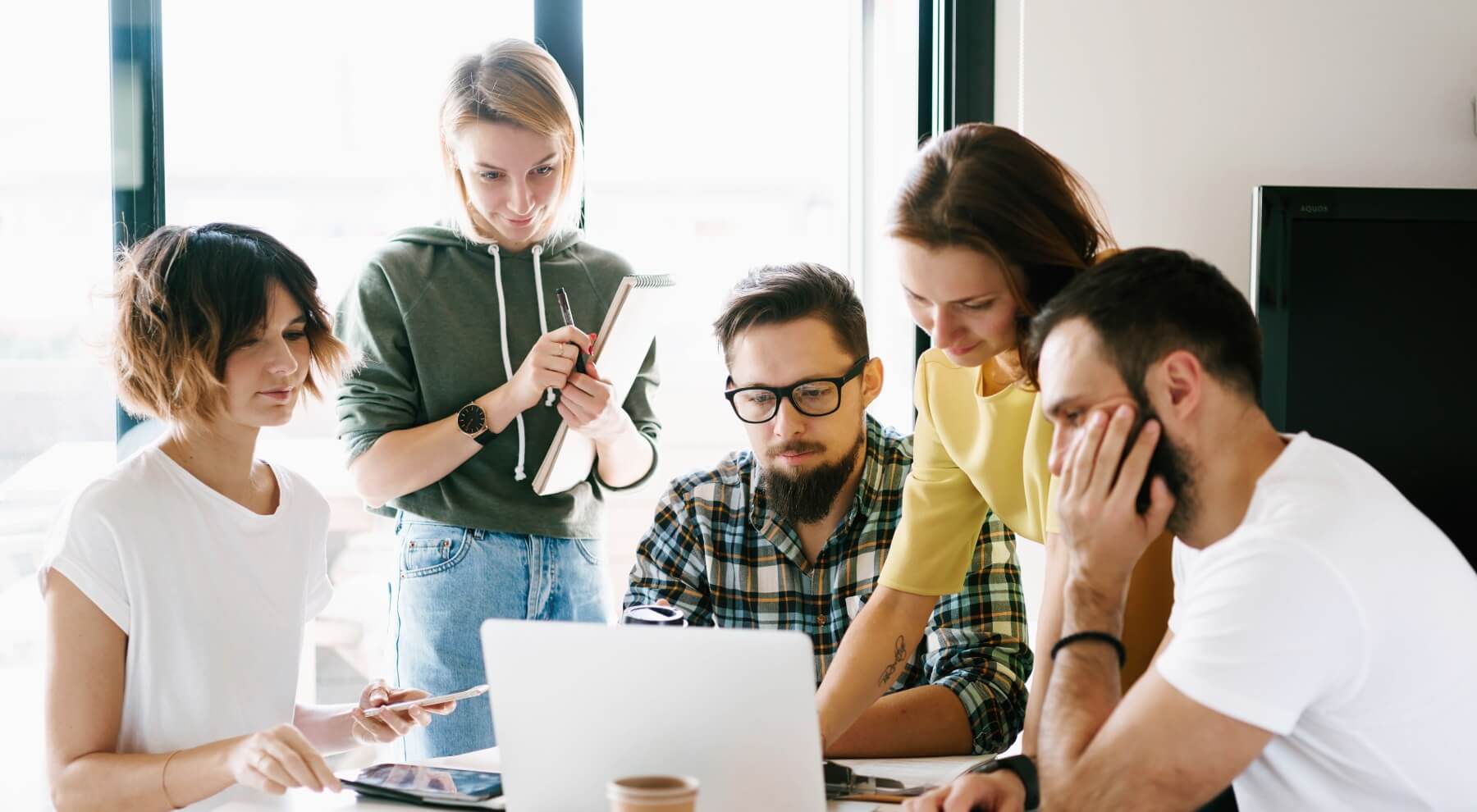 These days, no one questions the value of collaborative innovation platforms. The old-fashioned suggestion box is a thing of the past. But how can you make the most of them? There are pitfalls to avoid, but most importantly, you have to choose the right software for your organization. It's important to ensure you have all the functions you need to get your employees on board and put innovation at the front and center of your business.
Recap: How collaboration innovation software can help
Infusing an innovation culture is no walk in the park. It's even harder if you don't have the tools to percolate it through the organization. It takes time and effort to instill innovation in the DNA of your business. Innovation requires organization, coordination, and steering, which is exactly what an innovation platform does.
Still wondering what innovation software looks like? Reflecting the omnipresence of digitalization, it's a collaborative platform with all the functions you need in one system to help your teams work together with a smooth flow of ideas for continuous innovation projects.
Since we founded Humanperf Software, we've never seen an organization that doesn't generate ideas. It's a natural – and probably the only – infinite source.
As idea generators, there are three types of organizations:
Organizations that think their environment is static and innovation is not for them. If they're still breathing, they won't be for long.
Some organizations think that ideas are management's preserve or belong in the R&D department. Such top-down organizations lack flexibility. They miss opportunities that crop up every day and employees gradually become indifferent.
Others have systems in place so that the constant source of opportunities flows both top-down and bottom-up. Such dynamic organizations keep employees at every level on board. But there is a critical mass beyond which software is essential for managing innovation initiatives and progress.
Avoiding pitfalls to make the right choice
"Having ideas is the hardest part"
The first pitfall is concentrating on ideation – the process of generating ideas. Typical questions include, "Do my teams have any ideas? How many? About what? Who will participate?" which tend to hinder rather than help the thought process.
Even worse, some think a good idea is enough to get the troops mobilized enough to shake things up. Wrong! That's probably the biggest surprise. Any idea – whether it's good or bad – creates more work, on top of everything else you already have going on. As a result, operational teams focus on their objectives to keep the wheels turning. Innovation and continuous improvement are not necessarily seen as objectives, which means they're not top priority when deciding where to spend time.
There are ideas out there but you can't force your employees to submit those ideas spontaneously. You have to create conducive conditions so your employees buy into the process.
Don't limit your attention to ideation. It's important to address the entire life cycle of ideas and how to coordinate them.
"It's the solution to all my problems"
The second pitfall is thinking that an idea management system will solve all the problems including employee creativity, management buy-in, applying best practice, and finding resources. The tool is only a facilitator. In other words, it won't generate, assess, and implement ideas. The tool doesn't free up operational managers who don't have time to focus on ideas. Executive committees won't take employees' ideas more seriously because there is software.
The sheer number of ideas, users, and decision-making bodies can be prerequisites for a tool. Taking on a tool also gives the organization's intentions credibility. It's serious leverage for getting employees on board. But it's no substitute for top management's buy-in and other managers actively advocating.
Software and innovation: ask the right questions
It's important that the software you choose ticks all the boxes. Asking the right questions will ensure your final choice meets the needs of your organization's collaborative innovation process. Avoid the trap of long and complex specifications which are predictable. But make sure you clearly state the rules of the game that cover all aspects of the project.
A one-shot or a permanent process
These take two forms:
An Innovation Challenge over a short, limited time frame which collects as many ideas as possible and uses a process of elimination with a range of mechanisms. The ideas are then analyzed and eventually implemented. It's a kind of contest where ideas compete for limited resources.
Participative and Collaborative Innovation where in this case, the organization establishes a permanent process for managing ideas from beginning to end. This process presumes the organization has the capacity to take advantage of all opportunities.
Get organized to process ideas effectively
Ideas only have value for the organization and the person behind them if they are implemented. There's no point in collecting ideas to create a glowing illusion of creativity.
Implementing ideas drives organizations forward and encourages people who make suggestions. It also creates a trusting and virtuous system where intention and actions are aligned.
It can be tempting to take the easy way out and limit dealing with ideas to one mode of operation. But that's dangerous if the spectrum is wide. Alternatives include the line manager of the person behind the idea, or a local intermediary involved in ideas under a continuous improvement process that can be applied locally; an internal client or sponsor for calls for ideas on a specific subject; or a steering committee for transversal ideas.
Anticipate the number of ideas
Be warned: the trouble starts when the ideas start flowing.
As a general rule, it's not possible to effectively coordinate more than 50 ideas without a suitable tool. It's simply impossible to collect, process (which involves justifying rejection, requesting further development and assessment, putting on hold, and implementing), and transparently monitor over 50 ideas at a time. And it's even worse if the organization is spread over multiple sites.
Realistic participation rates (proportion of employees claiming to have at least one idea) at the end of a 12-month period are between 10 and 30% for continuous improvement and between 5 and 10% for more ambitious innovative projects. These rates depend on coordination, engagement and buy-in of those involved, management's attitude, and how the purpose is perceived.
Determine the degree of innovation required
Managing ideas for local continuous improvement doesn't require the same rules of the game as suggestions for major transversal projects, transformation projects, or ideas for new products and services. It's important to identify and anticipate the different playing fields required by the different types of processes to choose the appropriate functional processes.
Reward schemes
A reward scheme may be necessary to encourage contributors. This depends on the sector and business culture. Avoid automatic and routine reward schemes which may be taken for granted.
Think ahead
It's tempting – even pragmatic – to keep the process simple to get started with minimum effort and risk. At the same time, it's vital to keep in mind the organization's objective in two to three years. You don't want to compromise longer-term goals.
The current trend is to aim for baby steps to avoid risky, overambitious change. Take your time and tweak. It's probably a good way to start but you're in danger of losing momentum further down the track.
Such processes often benefit from a boost with active involvement from top management at the outset, but it's harder to sustain motivation for the long haul.
Avoid a timid launch with loud, attention-seeking announcements. We recommend communicating on an ambitious trajectory of between two and three years from the outset. It's easier to follow a road map approved by top management if communication and mobilization are spread over the entire period.
Here's an example:
Set up a pilot project with one department or site to quickly create a model;
Implement with other departments or sites progressively;
Apply to the whole organization;
Upscale functionally to keep in step with the organization's maturity.
Cost
Software prices vary greatly, theoretically reflecting functionality, expertise, and solution maturity. As a result, choosing the cheapest is not necessarily a good idea because a detail can bring the whole system crashing down.
Think about ROI. Make hypotheses about the minimum and maximum number of ideas expected in your organization to calculate the cost of coordinating the process without a tool. The added value of software will become clearer, depending on what it can and can't do, not the price.
Technical aspects
Most software these days is SaaS (Software as a Service), hosted on a platform accessible online for which organizations pay a subscription. Make sure the software provider's technical parameters comply with your organization's security criteria including an ISO 27001-certified host, in Europe for European companies, Single Sign-On authentication (SSO), data exchange encryption, and GDPR compliance.
Some company's IT security policies do not authorize software hosted outside the organization on the Cloud. In those cases, the software must be installed within the enterprise's IT infrastructure.
We strongly recommend choosing a solution with API (Application Programming Interface) to avoid data being trapped in the chosen application. An API connects the application to other software or services to exchange data and functionalities.
Essential functions for collaborative innovation software
Once you've analyzed your needs, it's time to compare the concrete differences between solutions in the market.
Generic product features
These are functions that affect user experience. Don't neglect them. They are increasingly important when it comes to getting employees on board. You need:
A simple, user-friendly interface;
Access on mobile devices such as phones and tablets;
Security for both user access and data privacy;
Flexibility for adapting the tool to your organization's needs.
Innovation-related product features
These are functions for coordinating innovation from the outset when ideas arrive, through assessment to implementation. It's essential the software has the following features:
A simple system for submitting ideas and where other employees can develop on them with votes, comments, and discussions;
Complete management of the idea life cycle with options that can be activated as needed: requesting further development and assessment, putting on hold, analyzing opportunities, cost and ROI analysis, decision transfer, etc.
Implementation monitoring for both simple (Just Do It) and complex ideas so the methodology can be adapted;
A customizable process for personalizing configuration of details such as stages, roles, and assessment criteria depending on the different playing fields;
Access to analysis tools, reports, and dashboards with coordination by site, department, and team, by theme, by period, and other criteria as necessary.
Beyond technology: The importance of quality support
Finally, successful implementation of innovation software depends on the quality and maturity of the selected solution. But it also depends on the service from the software provider going forward. Beware of buzz.
A tool that can be adapted to your needs going forward
The selected tool must adapt to the organization's needs going forward depending on the specific playing field (call for ideas/challenge, participative innovation, continuous improvement, intrapreneurship) and the organization's maturity and size (number of sites and employees).
It must be simple to adapt. Platform administrators must be autonomous and able to call on the software provider for support. Specific developments are not recommended because upgrades to the solution will be costly and slow.
The software provider must also demonstrate they can upgrade the solution to reflect user feedback and trends in innovation and the software market.
Quality support going forward
Participative and collaborative innovation requires long-term action to have real impact. Creating a solid base takes time and requires a step-by-step approach. The software provider must be able to offer tailored support for:
Customizing the platform to meet changing needs over time;
Training and raising awareness among teams, network members, and middle management on the front line of changes such as turnover and job changes.
IDhall is a complete solution with unrivaled support
Humanperf Software has been developing the IDhall solution since 2004. Over 200 clients and 500,000 users worldwide accelerate their organizations' innovation and progress with IDhall.
Benefit from our expert support backed by experience with feedback from projects in a wide range of sectors. We continue developing the tool as we accumulate expertise and experience, which also benefits our clients with advice for their innovation and progress projects.

This article was originally published on July 6, 2018 and was updated on June 2, 2023.