Choosing the right collaborative innovation software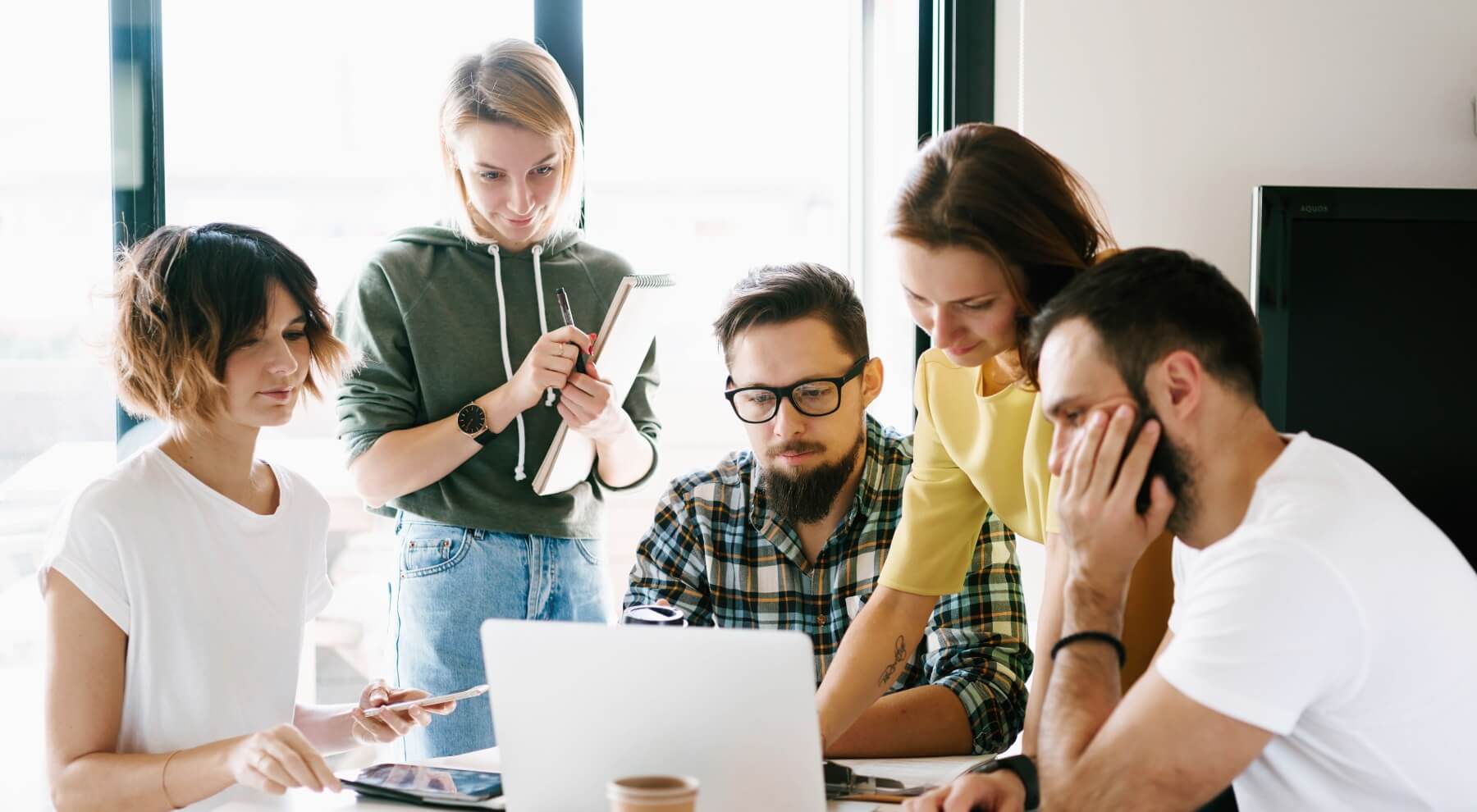 Participative innovation platforms have rendered old-fashioned ideas boxes so obsolete that the need to use one is beyond dispute. But what practical form should it take? What are the pitfalls to avoid, and how can one be sure of making the right choice for such a software? What features must it offer to facilitate staff buy-in and refocus corporate culture on innovation?
What purposes does collaborative innovation management software serve?
Instilling an innovation culture is not a given, especially when there is no clear route to do so. It takes time and effort to determine an innovation strategy by aligning with the company's main objectives and issues requiring action. The aim of an innovation management software is indeed precisely to make instilling such a culture faster and easier.
Therefore, in these days of digital transformation projects, an innovation management software is first and foremost an online platform combining all those functionalities that make it possible to breathe life into ideas and for all stakeholders to work better together, combined within a single environment.
While building an innovation culture in a business relies a great deal on impetus from senior management, the successful involvement of all staff throughout the innovation process, from the emergence of ideas, through analysis and investigation, to implementation, will also depend on the software that has been chosen.
The mistakes to avoid to deliver the right choices
Having ideas is not the hard part
The first mistake is to focus all attention on the generation of ideas, on ideation. Asking questions about whether employees will have ideas, how many, what kind of ideas they will be, and who is going to participate are harmful to a more measured consideration of the process as a whole.
This mistake is amplified by the belief that when you get a good idea, all the stakeholders concerned will naturally jump into action and bend over backwards to do things differently. The most surprising thing is probably that, in actual fact, they won't. In reality, any idea, good, bad or indifferent, means extra work, on top of all the other work. Operational staff consequently focus on their objectives: to keep the business running day-to-day. As innovation and continuous improvement are not necessarily seen as either requirements or objectives, they are not considered as day-to-day matters when staff are taking decisions regarding their to-do list.
We have never seen a business where there were not some very good ideas. In contrast, we have seen businesses where employees held back on submitting ideas because they did not trust that the innovation process or the (LIEN INTERNE target="en-blog a2")ideas management system in place would process and monitor them entirely transparently. We have also seen many businesses where there were many good ideas that were not processed at all…
It is therefore vital to consider the full lifecycle of ideas, and the organisation required.
No system is a silver bullet
The second mistake is to think that a software will solve all problems (employee creativity, management commitment, roll-out of best practices, availability of resources, etc.). Systems merely facilitate. Under no circumstances do systems generate, assess and implement ideas. Operational managers with no time to spend on having ideas won't have more ideas just because they have an ideas management system. An executive committee that dismisses ideas as of little importance won't see ideas as crucial just because they have a collaborative innovation software.
However, a system can be an essential requirement, depending on the scale involved (number of ideas and employees, number of decision-making bodies, etc.) but ultimately, it is just a small aspect of the overall issue. Put simply, it is better to have senior management with drive, departmental managers with commitment and employees with ideas, but a poor software, than the opposite. The ideal of course, is to have both.
Software and innovation: first of all, ask the right questions
Before embarking on selecting management software, a business firstly needs to ask itself the right questions if the final selection is to be fully in keeping with the collaborative innovation process followed within the organisation. While avoiding the pitfall of producing a specification that is too long or too complicated and that therefore will not be innovative, it is nonetheless crucial to set out a project definition incorporating a number of different aspects.
One-off operation or permanent process
Two ways of generating ideas are used:
Challenge or competition, run for a limited time, the aim of which is to collect as many ideas as possible in a short period, and to select a shortlist of ideas to be studied in greater depth, and then potentially implemented. In this situation, ideas tend to compete for limited resources that will be allocated to a few ideas only.
Participative & Collaborative Innovation where the organisation puts a permanent process in place to manage all ideas, from start to finish, based on the principle that all good ideas need to be implemented sooner or later.
Organising the processing of ideas
An idea has value to the business and its originator only if it is implemented. There is nothing to be gained in collecting ideas for the simple pleasure of feeling creative.
Implementing ideas means the business makes progress and the originator feels appreciated, and so creates a virtuous circle of listening, trust, and consistency between statements of intent in the boardroom and reality on the ground.
For simplicity's sake, it is often tempting to restrict the processing of ideas to single modus operandi. This however proves to be a mistake where processes cover a wide spectrum. So we might find the originator's line manager or a local expert involved in ideas under a continuous improvement process that can be applied locally, an internal customer (or sponsor) for calls for ideas on a specific subject, steering committees for cross-departmental ideas, and so on.
Within a "Products" innovation process, the deliverable resulting from implementation of the idea should be specified, bearing in mind the company probably already uses PLM (Product Lifecycle Management) tools. Examples include technical feasibility study, business case, etc.
Anticipating the number of ideas generated
Make no mistake, with processes of this kind, the trouble begins when ideas start to arrive!
We believe that generally it becomes impossible to properly coordinate these processes without an appropriate management software when more than about 50 ideas are in progress at any one time. The work needed to collect, process (rejection with reasons, request for more details, request for expert assessment, placing on hold, or implementation) and monitor over 50 ideas in a transparent manner quickly becomes untenable. This observation becomes all the clearer where a business operates on multiple sites.
It is entirely reasonable to hypothesise participation rates (proportion of employees submitting at least one idea) after 12 months of between 10% and 30% for a process focused on "continuous improvement", and from 5% to 10% for a more ambitious innovation-focused scheme. These rates could however rise depending on the leadership, commitment and buy-in shown by stakeholders, the example set by management, and the value attached to the process.
Planning the scope of innovation
Management of continuous improvement ideas for local application will not require the same guidance as proposals for major cross-departmental projects or proposed new products or services. The different areas of scope within which the business works therefore need to be determined. It is entirely possible for these different areas of scope to require different functional approaches.
Recognising employee contributions
Depending on the field in which the business operates and its corporate culture, a recognition or award scheme might prove necessary to stimulate proposals from employees. Care must nonetheless be taken to avoid automatic or guaranteed rewards that could be viewed as a "perk".
Objectives looking ahead
The temptation to keep the system simple to achieve an effortless and risk-free start-up has the merit of pragmatism, but the organisation's targets for the next 24-36 months must not be overlooked to ensure the method selected does not subsequently undermine them.
To avoid high-risk implementations with time-consuming change management issues, the current trend is to prefer baby steps, with gradual progress and adjustments. This is probably a reasonable choice at start-up, but there is a risk of the process fizzling out in the medium term.
Such processes typically do in fact benefit from a power surge in the launch phase, including senior management's involvement, and it can prove more difficult to find the same energy to get over a hump in the road later.
Rather than selling a cautious start-up, backed by a flurry of announcements and statements subsequently, we recommend promoting a timescale of 24-36 months from the outset. This makes for a simple start-up, following a roadmap approved by senior management, spreading communication efforts and impetus across the whole period.
The solution selected could follow steps such as:
Pilot scheme in one department or site, quickly becoming a showcase;
Sequential roll-out to a number of other departments or sites;
Roll-out across the entire business;
Functional ramping-up as the business achieves maturity with the process.
How much does it cost?
Software packages are available at every price point, with prices theoretically reflecting functional coverage, expertise, and the solution's maturity. Buying cheap is not necessarily a good idea.
Consider ROI in more depth. By producing projected upper and lower figures for the number of ideas in your organisation, you will be able to calculate a cost of managing the process without a software, and in so doing you will be better able to assess a package's added value based on what it can actually do and not just on its price.
Technical aspects
The majority of softwares nowadays operate using the SaaS (Software as a Service) model. This means that the business pays a monthly subscription fee, with no contractual commitment, the solution being hosted outside the organisation and accessed online. This being so, the business must ensure the publisher's technical choices are appropriate to the business' security requirements.
Some companies' IT security policies refuse to countenance cloud-based software (hosted outside the company) and as a result, any solution must be installed locally with financial considerations therefore including user licences and maintenance.
The essential functions of a collaborative innovation software
Once the right questions have been asked, the tangible components of the various softwares investigated then need to be compared:
Generic product features
These typically concern functionalities relating to the user experience. Their importance should not be dismissed, because such factors increasingly determine users' acceptance of a software:
Simple, well designed and user friendly;
Accessible from a mobile device;
Secure in terms of both user access and data privacy;
Flexible, to adapt flawlessly to the organisation's requirements.
Innovation-related product features
These are functionalities that relate to innovation implementation and management in the business (from ideas generation through assessment to implementation). The software should accordingly feature the following:
Straightforward submission of ideas and contributions from other employees (votes, comments, discussion);
Full idea lifecycle management, with various options available depending on needs, e.g. request for more details, request for expert assessment, placing on hold, opportunity analysis, financial analysis, decision referral elsewhere, etc.;
Implementation monitoring appropriate both to simple ideas ("just do it") and to complicated ideas that might demand a multi-phase methodology;
Customisable processing to configure the different steps, roles and responsibilities, assessment criteria and so on depending on different areas of scope;
Access to analysis tools and KPI making it easier to coordinate and manage the process by entity (site, department or team), by subject area, period, etc.
Lastly, successful implementation of an innovation software has less to do with the quality of the software chosen than with proper staff training. The support offered by the package's publisher will therefore be significant, if not vital…