Are Microsoft Project and Excel the only options for project management?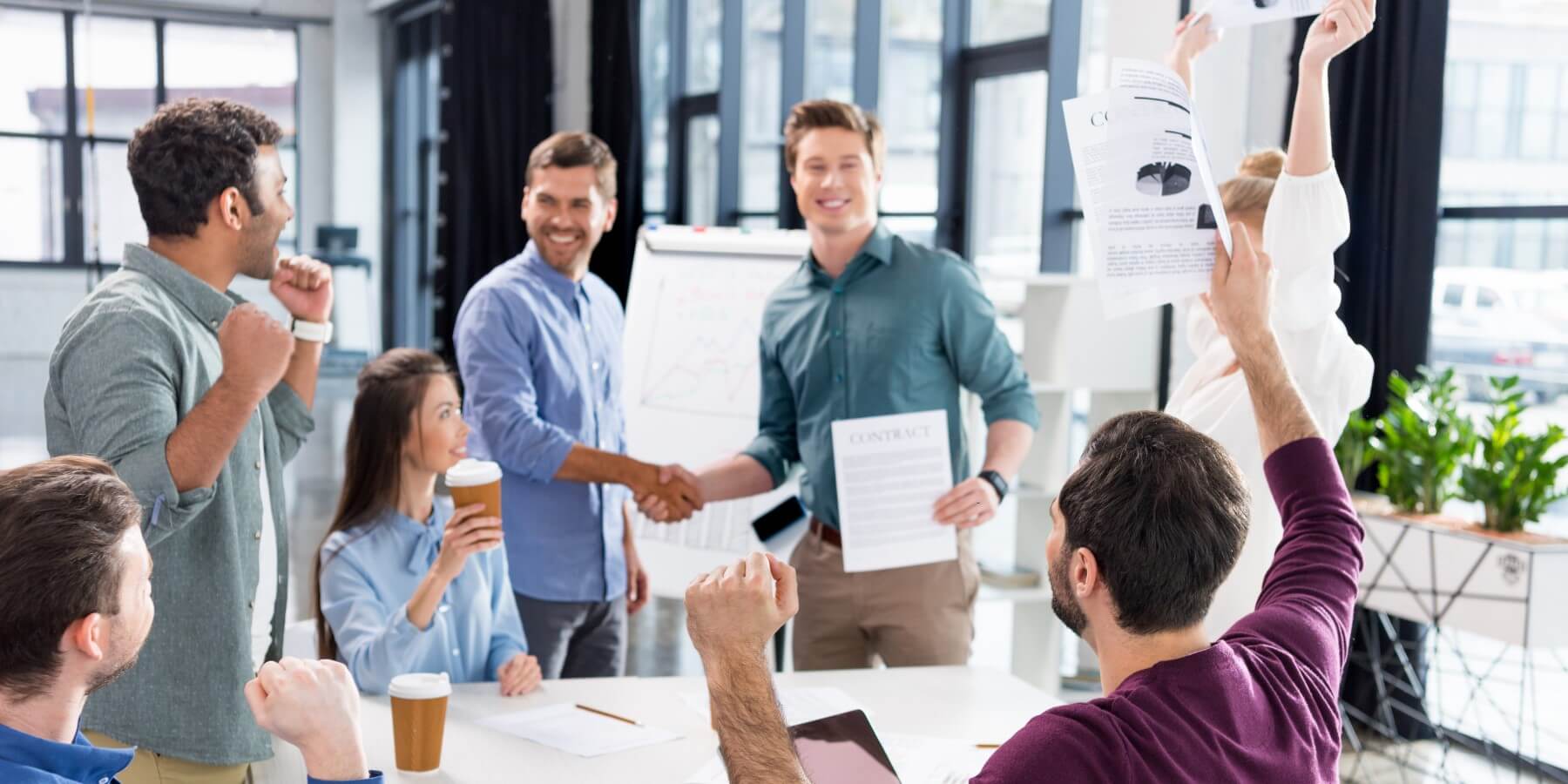 1984…
Besides George Orwell's famous novel and its alternative vision, 1984 was also the year when Microsoft Project was released. This project management package has more than 20 million users according to Microsoft. Microsoft Excel followed close behind, as in 1985 Apple Macintosh released the first version of this multifaceted spreadsheet.
These are two very effective tools, which quickly became widely used in businesses to handle a great many tasks. They are also two tools for which few alternatives have really worked. Or not perhaps until recently. Because if you want to involve business-line staff in a collaborative project management process, now is the time to draw a line under past habits. Collaboration is a whole other world…
Get your notepads ready, because what follows are good reasons to help persuade people in-house that it is time to offer an alternative to MS Project and Excel for collaborative project management and participative innovation.
Why do you need an alternative to Microsoft Project?
"Microsoft Project has been a standard for tracking projects of various sizes. The dependency chaining works quite well and helps visualise resource and task scheduling. Good for milestone tracking at a high level, while also designating resources to specific tasks. Fits well if you use a waterfall model" explains John Orate, senior manager and IT professional at Schneider Electric*.
*Quoted from a survey conducted by G2 Crowd in 2015 covering more than 600 reviews and ratings from business professionals regarding their use of project management software packages and their satisfaction with them.
True enough, but while MS Project fits well with cascade models of project management, such as the waterfall model, much used in software development and based on a linear, sequential cycle, it quickly shows its limitations whenever flexibility is needed to manage a project.
The kinds of project MS Project suits
MS Project emerged from a need for Microsoft itself to organise its own projects. The package was so highly effective at project scheduling, allocating resources and determining costs for those resources that it was swiftly made commercially available to businesses. It is safe to say that MS Project is now used by about 90% of project managers and schedulers. It can work wonders in some situations; however, it does not meet with universal approval under all circumstances.
MS Project really is perfectly suited to large-scale, lengthy and complex projects, such as major construction works (building a bridge or a factory, say), organising large events, developing software, industrial engineering, and so on, where teams are brought together to carry out a project where tasks are highly inter-dependent, and where complete control is a necessity. We are back to our waterfall model.
Where MS Project shows its real limitations is regarding projects that are slightly different, especially those that are either smaller or, especially, cross-functional and collaborative in nature. Projects to which employees are not always exclusively assigned, and which inevitably see overlaps, iterative steps and adjustments, and which therefore require a great deal of communication. Such projects will need a bit more flexibility and agility, and a lot more collaboration.
Anticipating the limitations of MS Project to make the right choices
This demands the ability to distinguish large-scale projects that should be tracked using MS Project from more collaborative projects. Factors to consider are:
Team size;
Team member locations (all in one office, or spread across more than one department or site);
Extent to which team members depend on each other - do they need to work together or are they independent?
Degree of inter-dependence between tasks;
Level of flexibility and control desired.
In fact, for highly collaborative projects, with team members scattered around many departments or sites and where the level of task dependence is reasonable, an alternative to MS Project is essential.
Do not overlook that MS Project is first and foremost a scheduling tool. However, limiting project management to scheduling is a little simplistic. Management means dealing with the twists and turns that all projects experience, incidents and resolutions, tracking resources not assigned to a project 100%, capitalising on solutions found, and communication to all project stakeholders, before, during and after the project. The issue is not the scheduling of project tasks, but managing the entire project lifecycle.
Whenever a project requires flexibility, collaboration and user-friendliness, it requires an alternative to MS Project. Unfortunately, businesses are soon tempted to fall back on another application, already installed and that everyone knows, namely Microsoft Excel. But all may not be as it seems.
Switching to Excel is not the best route either
It's true that everyone already uses Excel and it is often adopted unthinkingly as an alternative to Microsoft Project. And yet… why would anyone really consider using a spreadsheet for project management? Excel is not, after all, strictly speaking a project management tool, and is no more a collaborative tool than MS Project.
Excel is primarily a spreadsheet used to handle figures
Microsoft Excel is a spreadsheet available to anyone, and is found on almost all business desktops. It is a powerful application, and can be used to:
Build calculation formulae;
Represent data in graphical form;
Summarise data in dynamic pivot tables;
And if need be, program data processing using macros.
The common factor is data processing and analysis.
Of course, much simpler things can be done, such as using Excel as a database to record all the tasks performed under an action plan, for example. But an Excel spreadsheet is like a snapshot taken at a point in time, whereas project management first and foremost means project members on the move, and they must not stop moving.
Excel is not the right alternative to MS Project for collaborative working
There are two major obstacles to the use of Excel as an alternative to MS Project:
Design: as noted, spreadsheets are a data snapshot: meeting dates, the resources used, deadlines, participating team members, problems to be resolved, or project revisions in the light of new opportunities are treated as cell values and not as collaborative data with implications on real people.
Mobility and accessibility: although versions of Excel have been available for mobiles and tablets since 2014, it is essentially not particularly "mobile friendly". So access is still needed to a computer on which the package is installed, if Excel is to be used effectively.
Once a project demands collaborative working, Excel is therefore no more suitable than MS Project. It is not hard to imagine the tangle facing project managers running several projects involving participants featuring in one or more files, which are not necessarily updated by those involved, etc.
The time and energy wasted, and errors in the data, quickly become tiresome to team members, discouraged by the effort required to update "unproductive" (yet no less necessary) files. In fact, projects often fall behind schedule… or indeed are never completed at all.

Any alternative to MS Project must above all else be collaborative
No more needs to be said. The major issue with project management is less in the scheduling phase than in coordination and good communication, both before the project starts, to argue its worth, and then throughout its lifecycle to run the project until objectives are achieved.
How is a project management tool made to be effective? François Debois, a French specialist and certified PMP (Project Management Professional) trainer, says there are three key factors:
1

The intrinsic quality of the tool

The features on offer: scheduling, monitoring, reporting, overview, control over time spent and costs, information sharing, design and user friendliness, mobile versions, etc.
2

The fit between the tool and the needs of the project and the business

The most powerful application in the world is not the best fit for all projects. It is crucial to pick the right tool for your business, your staff and the projects you run.
3

Project team buy-in

A key success factor is project team members' complete acceptance of the project management application used. A feature-rich tool, appropriate to the project but only used by one individual, clearly will not deliver the desired result.

Projects nowadays suffer less from scheduling problems than communication issues. The alternative to Microsoft Project must therefore provide a complete overview and fully incorporate the collaborative working aspect.

By the way, to find out more about project portfolio management and get your company started down the path, please download our guide: